H. G. Wells wrote the screen adaptation of his future history, The Shape of Things to Come, to give a dramatic setting to his sweeping vision of a world first devastated by war then resurrected by a corps of brilliant engineers. The result was Things to Come, a 1936 film produced by Alexander Korda and directed by Williams Cameron Menzies. Though dated in many ways, it's well worth watching and surely one of the most ambitious science fiction films of the years between the two world wars.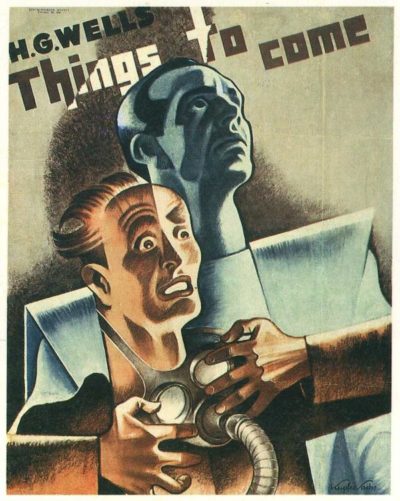 Wells' vision of technology was the polar opposite of Fritz Lang's Metropolis or Charlie Chaplin's City Lights. Far from being dehumanizing, for Wells technology was the only hope to pull humankind out of the morass of economic failure, war and destruction. The script for Things to Come, like most of his work in the 1930s toward the end of his life was strongly didactic with only a few concessions to the drama that made his early fiction so memorable. Nevertheless, the medium of film drew out of him and his collaborators some powerful visual elements that have stayed with me ever since I first saw the film many years ago.
The narrative follows in a condensed way the 100-year future history of The Shape of Things to Come but personalizes and localizes it much more in a specific city setting that looks a lot like London but is called Everytown. In the first part of the film, set in a near-future 1940, a wonderful montage establishes the typical daily life of a bustling city, busy people, smiling children, crowded traffic. Each beautifully composed brief image shows posters and newspapers lurking in the background with messages of looming war that no one heeds.
It's Christmas, and we get a look inside one home, that of John Cabal, played by Raymond Massey, a scientist who is worried about the chance of war while his friends dismiss the idea out of hand. Sure enough, war comes, antiaircraft artillery roll onto the streets of Everytown and start blasting away, but they are no match for the steady bombardment from above.
Soon Everytown is reduced to rubble, and in another montage, war rages for years. Ultimately, Everytown becomes a complete ruin with people roaming about in rags or walking aimlessly, afflicted with the "wandering sickness" caused by biological warfare.
Emerging from the ruins is a Mad Max world dominated by a warlord, known as the Boss, played by Ralph Richardson. With most machinery broken, the Boss struggles to repair an old fleet of biplanes and provokes another war to win control over the resources he needs to fuel his planes.
Just then, a sleek small plane, piloted by John Cabal, lands in Everytown. Cabal brings word of the formation of a new society of airmen called Wings Over the World. The group has managed to get control over factories and resources to produce fleets of new airplanes. This is only the first step in their plan to replace a ruined world of warlords with a new society based on advanced engineering and military-like discipline.
Though the Boss will have none of it, soon enough a fleet of black bombers in strict formation appear over Everytown. They quickly dispatche the useless biplanes and blanket the city with bombs of "peace gas." This puts everyone to sleep, somehow kills the Boss, and thus can begin the rebuilding of the city and civilization itself.
The years roll on, and we see another montage of great machines blasting out underground caverns and constructing a whole new city beneath the ruins of the old. In the last part of the film, set 100 years after its opening, we see a dazzling set of underground buildings that create their own version of sunlight.
Everything is sleek and spotless. People watch their widescreen tv's, talk on two way wrist radios, and see public speeches broadcast on giant screens in the public plaza. They dress in rather bizarre combinations of Roman-like togas and what looks like cardboard tunics with yard-wide shoulders. Needless to say for a film of that time, everyone is as white as the clothing they wear.
A grandson of John Cabal, also played by Raymond Massey, rules over Everytown as an enlightened engineer who is about to introduce space flight. But he is opposed by a sculptor/philosopher played by Cedric Hardwicke, who stirs up the masses with an anti-technology message and leads them to storm the launching platform.
This 1930s vision of space flight isn't based on rocketry or jet propulsion, which were still new at the time (though not in science fiction) but on a huge cannon which is supposed to blast a capsule on a voyage to circle the moon. That impractical mode of transport looks pretty bizarre to our eyes but must have appeared impressively "futuristic" in 1936.
The crowds fail to block the blast, and the film ends with Massey watching the capsule streak across the sky and offering a bold Wellsian vision of the dilemma facing humankind. For him it's a choice between the marvels of technology leading to the conquest of space (and ever greater new beginnings) or a descent into another dark age of war and struggle. "Which shall it be?" he intones. "Which shall it be?"
Massey, Richardson and Hardwicke were among the great declamatory actors of their time, but there is nothing here of psychological nuance or character development. Wells gave them speeches to stand and declaim, stage center, with beautiful diction and ringing delivery. And that style well-suited Wells' didactic dialogue and narrative of his late period.
The acting style, the lack of characterization and plot and the primitive special effects are partly offset by some brilliantly composed and unforgettable imagery of the montages that march us through a hundred years of imagined human history. I like this film, for all its faults. It's clearly one of the great film scifi efforts of its era and well worth watching today.