Tade Thompson, a psychiatrist who is also a prolific writer, has created an original interpretation of a classic science fiction theme in his Rosewater, the opening novel in the Wormwood trilogy – that of first contact on earth as alien cells enter human minds across the world.
An alien mass hits the earth in Hyde Park, London in 2012, penetrates into the crust and gradually spreads, emerging at a location in Nigeria. It has an indeterminate shape but surrounds itself with a dome that opens occasionally and sends out emissions with healing powers.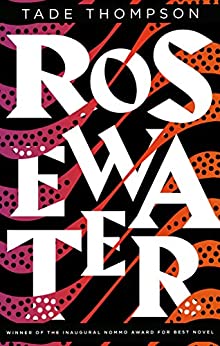 So people flock to the site to be cured, and for years the settlement is a rough shanty town sardonically dubbed Rosewater for its stench quite opposite to that fragrance. Yet over time, Rosewater becomes a more established city and home to a large population, including Kaaro, who narrates the story.
We gradually learn more about him as he shifts among time periods in his life from Now (2066) to Then (his youth in Lagos in the 2030s and 40s and his years in the early Camp Rosewater of the 2050s). In his early years, he tells us he is indifferent to the world, amoral and a thief. He has an uncanny ability to sense the precise location of hidden valuables. This enables him to victimize the wealthy who will not miss what he takes, and after a while he breaks into homes of the poor to leave part of what he has stolen.
It turns out he owes his insights as a thief to the alien presence. It has been releasing artificial cells to form a worldmind called the xenosphere. It uses this to infiltrate human minds, gradually replacing cells and drawing out information from millions in a one-way flow. A few people, known as sensitives, like Kaaro, can access the xenosphere and pick out the feelings, thoughts, attachments of people for various purposes.

Sometimes, entering the xenosphere is overwhelming:
"I cannot speak. It is not wind. It is I who am rushing. My … presence, my consciousness keeps moving and changing direction too fast for me to think. Alternating light and dark, shadow and flash, a rainbow of impossible colours, extended spectrum. I want to stop, to get off, to find my bearings. The weightlessness, the lack of a single vector, the loss of control … is this dying? "

Rosewater, Kindle edition, p. 141
Kaaro is a finder. He has only to open his mind to the xenosphere for a client, and he can perceive at once a path through the xenosphere to the right location. The passionate attachment to finding the lost thing is one of the few things that deeply stirs his emotions, and it makes him one of the best at what he does. One day he is kidnapped by a government agency called S45 that deals with alien phenomena. His finding skills are put to the test, and then he is compelled by his new boss Femi to join the organization.
There are several parallel strands to the story. There is Kaaro's ongoing tension with Femi and S45, as he often ignores his assignments, forcing them to kidnap him again and again to force him to complete his work. There is his relationship with Aminat, the beautiful woman who "falls in like" with him, and he with her. She has a mysterious past that is only revealed in yet another kidnapping episode when Kaaro has to fight for his life.
There is the sudden death of the other sensitives who have trained with Kaaro and the search for the force that is taking their lives. Then there is Kaaro's assignment to find the Bicycle Girl, who leads a sort of utopian society but who disappears regularly with all her followers.
These strands are not always well woven together, but Kaaro provides a strong presence that unifies the story.
He lives in a world that is changing more deeply than most people are aware because of the alien presence. A powerful theme of the book is the way things change when they are lost, that what is found is never the same as the object as it was originally experienced. The same is true for people. There is an inherent shifting of selves presented to the world:
"What you think of as your self is actually many things. At the core is your true self, of which you may not even be fully aware. Wrapped around this are several false selves that are used at different times in different situations, social selves that serve the function of translating your true self to the world. We swap between these effortlessly as we grow up, but they are elaborate fictions. Or they are real but alternative selves."

Rosewater, Kindle edition, p. 92
What Kaaro learns is that his "true self" is also changing, and much of the story is about his discovery of how this is happening and the steps he takes to assert control over his life.
Thompson builds up a compelling portrait of Kaaro, and I found myself much more drawn into his mind and experience than anything else in the book. There are other fascinating characters, to be sure. Aminat, his lover, and Femi, his boss at S45, and the mysterious Oyin Da, the Bicycle Girl, who can disappear into other dimensions – each has a strong story. There is also Aminat's brother Layi who can burn things down with the energy streaming from his body, and Anthony, an alien figure in human form who embodies the Dome world. I suspect these will have continuing roles in the later two volumes of this trilogy.
But this book is Kaaro's, and it is the elaboration of his character through various episodes in his life rather than a strong single plot line that drives the story. Sometimes the shifts of incident are a bit disconcerting, but they are always interesting and each deepens understanding of Kaaro and the strange world of Wormwood. Reading Rosewater is an exciting experience, and I will be reviewing the two later installments soon.